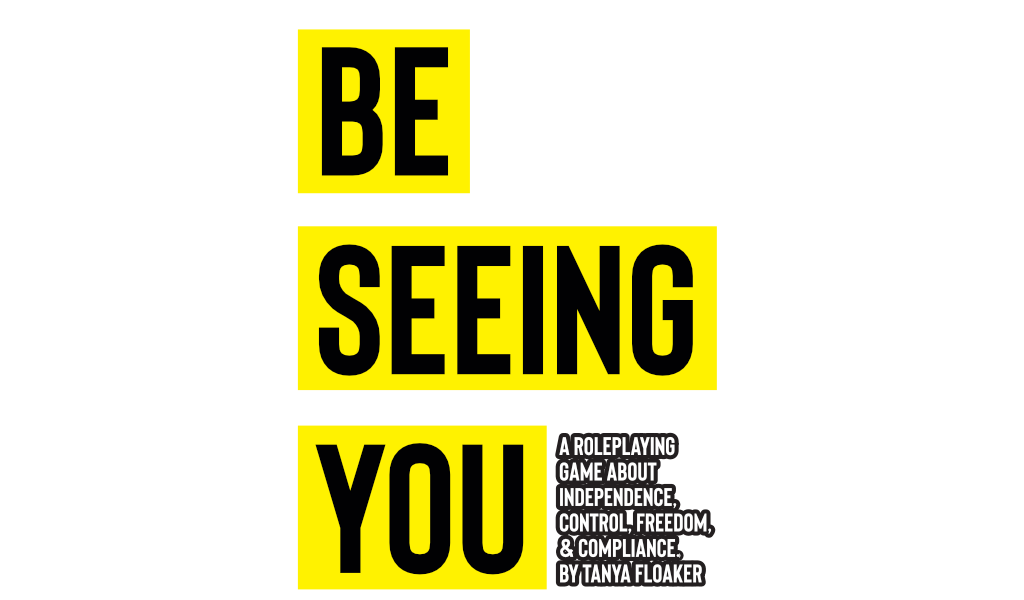 BE SEEING YOU

A ROLEPLAYING GAME ABOUT INDEPENDENCE, CONTROL, FREEDOM & COMPLIANCE


Main Game Specs:
- 3-5 Players/Prisoners
- 4-6 Hours
- No Dice No Masters 
- Additional 1-Player SOLO & 2-Player VERSUS modes in the appendix

*** WARNING: UNMUTUAL ACTIVITY PROHIBITED ***

This roleplaying game contains dangerous levels of dystopian science fiction, social allegory, and psychological drama.

Influenced by fiction in the vein of The Prisoner, Stalker, and Utopia, and real struggles against mass surveillance, the Hostile Environment, and the alienating effects of capitalism.

Scroll down the page to the FREE DOWNLOAD option and grab a copy now! If you like it, there are a number of ways you could help:
- Give a 5-Star Rating ⭐⭐⭐⭐⭐
- Join my Mailing List 📩
- Retweet the Link 🔗
- Smash a CCTV camera 🔨
- Bankroll the Resistance 💰
- Educate, Agitate, Organise! 🏴
- ​Order a physical copy at Leisure Games 🛒
Purchase
In order to download this game you must purchase it at or above the minimum price of $15 USD. You will get access to the following files:
BE SEEING YOU Spreads.pdf
25 MB
BE SEEING YOU Single Pages.pdf
25 MB
Main Game Central Play Aid.pdf
3 MB
Main Game Roatating Play Aids.pdf
280 kB
Solo Game Play Aid.pdf
3 MB
Versus Game Play Aid.pdf
20 MB
BE SEEING YOU - ePub.epub
15 kB
BE SEEING YOU - Rich Text.rtf
1 MB
Free Copy - Link Below
Support this game at or above a special price point to receive something exclusive.
Free Download
Digital media should be freely available. Download a copy for any reason whatsoever. Once you have the files, feel free to upload and share them however you like.

Comments
Log in with itch.io to leave a comment.
And the second session we played just piled on the awesome. I think everyone knocked this out of the park!
OMG! I'm really excited to see where you all took things! Thanks for giving my game a shot!
I just played the first session of a two part series (online) and I love this game. Without knowing the prisoner tv show and thanks to our facilitator we created this strange and passiv agressive little town. We probably had a bit more of a writers room aproach in section A and C of the episodes but that helpt me to envision the consequences of what we saw and made it feel more threatening I feel. Thank you for this game it's an absolute gem.
Amazing stuff! And thank you for playing and letting me know how it's all going. I'm super excited to hear how the second part goes. If you are in the UK and want a physical copy, most shops which stock board games and other friendly local game stores can order it (just let them know it is available on via Spiral Galaxy).

Also, if you liked BE SEEING YOU and enjoy surreal science fiction, I'll shortly be releasing a playtest version of a new game. The Connection Machine is about trauma and connection with the premise exploring four-dimensional space. Think Hypercube, Quantum Leap, What Dreams May Come and The Body Holds The Score. Watch this space!

A chance to explore the concepts of freedom, individuality, surveillance and compliance, within a framed conversation. This in full lets each person have a chance at each role, and space to decompress and explore how you felt. With also some options around playing in a pair or alone.
These thought experiments allow space to get to know ones self better and think through what is going on around us.
Well worth a look.
I haven't bought it (yet), but just the fact that prisoner is still alive in hearts and minds of people made me happy :]
If you have the ability, you can grab it as part of the Bundle for Reproductive Justice, happening right now!